CRECON Research & Consulting supports employees who share our Corporate Philosophy and objectives, are highly motivated to achieve their goals and career plans, and are pursuing a perfect work-life balance through MCP, SCS, and BPT (see below), irrespective of gender, age, years of service with us, nationality, or background.
MCP
- Offering Multi-Career Paths
We offer a variety of career paths that cross various service functions and teams. We promote career advancement by encouraging employee efforts to acquire qualifications and expertise and providing training opportunities at every step of development.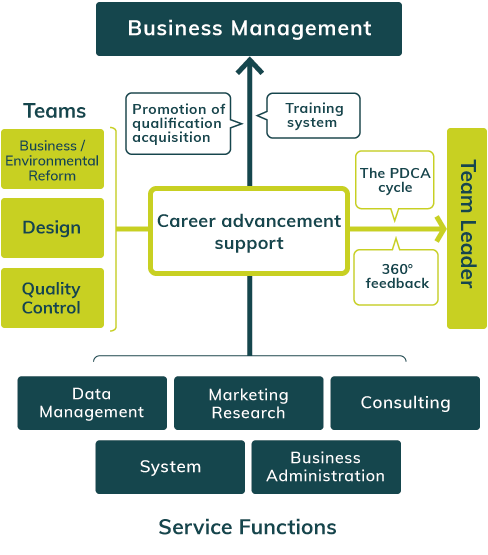 SCS
- Success-Communication -
System Cycle
Build on small successes → Communicate to share successes and strategies → Evaluate success and sharing using fair systems → Strive toward higher goals. We pursue the genuine growth of employees and live out our Corporate Philosophy by ensuring that this cycle is being repeatedly implemented over the long term while providing employees with adequate career counseling.
BPT
- Breakthrough Project Team
A good idea can be thwarted by a variety of factors, including the market environment, access to funding, or interpersonal relationships. CRECON Research & Consulting has a Breakthrough Project Team comprised of professionals who can help management directly screen various proposed service ideas and remove obstacles that might get in the way of their realization.
Application Requirements
We are not currently hiring.